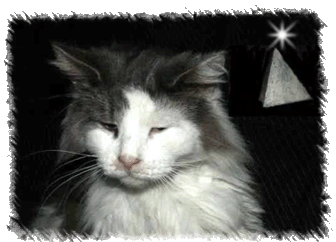 25-11-1996 - 30-01-2003
Blauw als bergen in de verte, wit als sneeuw.
Avalanche, m'n lieve, grote, Noorse Boskat is er niet meer.
Een herseninfarct veroorzaakte meer schade aan z'n hersenen dan hij aankon.
Nooit meer die grote poot op m'n arm om te zeggen "Ik wil een knuffel!", nooit meer een niesbui midden in m'n gezicht, niemand meer om vakkundig zakken en tassen van bezoekers leeg te halen, nooit meer samen garnaaltjes eten.
Goede vlucht, lieve Avalanche, Ik mis je!
Dirk

Fly, fly little wing.
Fly beyond imagening.
The softest cloud, the whitest dove,
Upon the wind of heaven's love.
Past the planets and the stars,
Leave this lonely world of ours.
Escape the sorrow and the pain
And fly again.

Fly, fly precious one.
Your endless journey has begun.
Take your gentle happiness,
Far too beautiful for this.
Cross over to the other shore.
There is peace for evermore.
But hold this memory bittersweet,
Until we meet

Fly, fly do not fear.
Don't waste a breath, don't shed a tear.
Your heart is pure, your soul is free.
Be on your way, don't wait for me.
Above the universe you'll climb.
On beyond the hands of time.
The moon will rise, the sun will set,
But I won't forget.

Fly, fly little wing.
Fly where only angels sing.
Fly away the time is right.
Go now, find the light!